InsexLive 2 | Endza Adair
Jul 8, 2016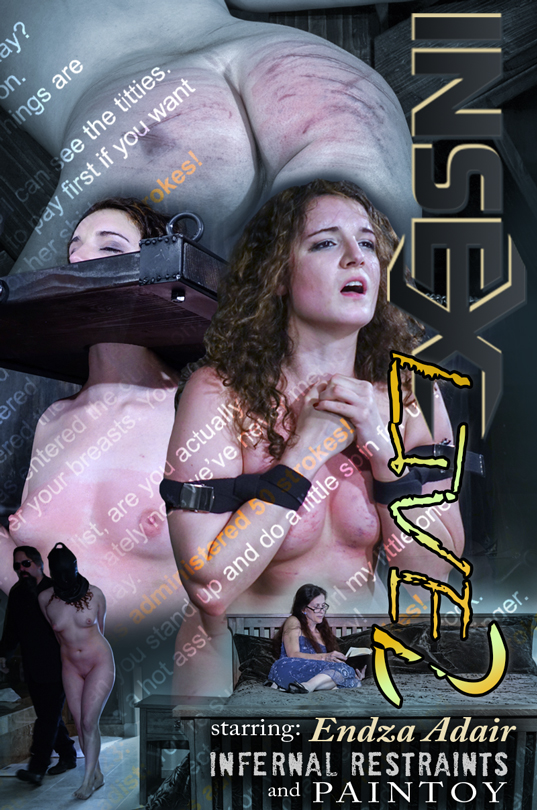 Endza Adair had a booming business running a show from the comfort of her home on her computer. A while back, though, that business went south when a few over-eager customers showed up at her front door and took from her what she had been showing them on her feed. It was her mistake, she shouldn't have been teasing them so much. Now Endza has made her second mistake: she's made a private visit to one of her long-time viewers' homes. She should have already learned not to be so trusting.

Endza is in for a real surprise when she finds out that her favorite customer "DaddySadist" is in fact a Dommina who has hired a few men to use Endza for her entertainment. Now she's going to be gagged, handcuffed, and tormented by a group of strangers, and one man she has only seen once outside of her worst nightmares when he came into her home with his friends and took what he wanted from her.
A Tale of Two Riggers | Endza Adair | Goldie Rush
Jun 17, 2016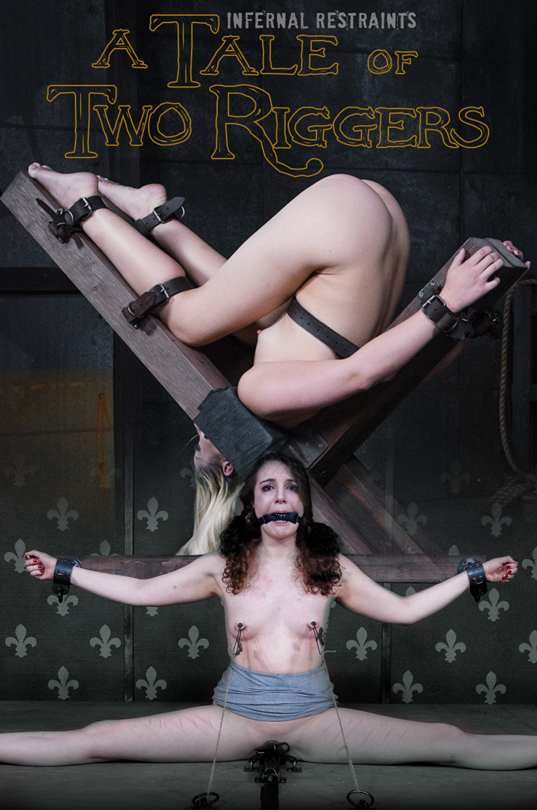 All over this country, all over the world, there are young, hot sluts trotting around in tight clothes or barely any at all, trying to get the attention of men. Men that they know better than to tease, but these sluts just can't help themselves.

Blonde sex-kitten Goldie Rush thinks that it's OK to strip nearly naked, let a man run his hands all over her tits, moan like she can't wait to be fucked, and then tell him that he's gone too far. She thinks it's alright to show off that tight body of hers, then try to walk it right out the door. But she forgot that she has no clue where she is, and no idea who she is fucking with. Before she even knows what's hit her she's locked down in metal bondage and begging for mercy. None is coming.

And far away is another girl who finds herself in too similar a situation. Endza Adair is locked down with legs spread wide, hoping that all her captor is lying when he says that he gets off on her tears. She's terrified, crying before the caning even starts, and if he's enjoying this as much as she is hating it, she knows that this is going to last a long time.
All Star Slut, Endza, is
Double Team Fucked from Both
Ends! | Endza Adair | Dee Williams | Matt Williams


May 20, 2016


141 Images • 16:21 Min Video

Amazing Endza Adair Fucked From Both Ends Between Metal Bars

The sexy Endza Adair is back and sandwiched between the hottest couple in the Bondage and Rough Sex game, Dee and Matt Williams. Locked between parallel metal bars, Endza is helpless and impaled from both ends by cock.

Dee has a massive strap on that she uses to warm up poor Endza's face hole, pushing the huge, rubber member straight to the back of the submissive slut's throat. She needs the practice, because even this veteran cock sucker has a hard time working that pole when her pussy is being ferociously pounded.

Overcome with cock, Endza can barely keep her body up, but as she starts sagging against the cold iron that holds her in place Matt pulls her up with a belt around her neck. She can cum until she can't see straight, but she isn't allowed to stop fucking until her two new masters have decided that they have had their fill.

Her pussy is literally dripping wet and she is drooling uncontrollably as she gags, trying to deep throat through the intense fucking. Endza is in full sexual subspace, so deep that she doesn't even know where she is anymore.
Sexy Girl Next Door is
brutally Throat fucked to the
ground. Relentless face
fucking and orgasms! | Endza Adair | Dee Williams | Matt Williams


Apr 25, 2016


135 Images • 14:26 Min Video

Endza Adair has her throat relentlessly fucked in brutal bondage. Left glazed, confused and broken.

Endza Adair, the perfect girl next door, is severely bound and throat fucked to the ground in today's Sexually Broken Monday Offering.

Bound sitting between to pipes with her arms Strappado'd back and her legs spread open and wide, Endza finds her self completely helpless and at the mercy of two aggressive face fuckers. Dee Williams, in her high heels and sporting a huge strap on, takes to opening Endza's throat. The onslaught from the two cocks is overwhelming. Endza's face is used hard and deep, with no mercy. We add a vibrator to her wet shaved pussy and Endza is reduced to a cumming whore as the cocks bang away at her helpless throat.

In the end, Endza collapses to the ground completely dazed, confused and and broken. Cum drips from her wet pussy, and deep throat spit covers her entire face and body. All she can do is moan on the floor as she leeks from every hole.
Girl next door is bound,
suffers rough sex from
authentic BDSM couple. Brutal
fucking and domination | Endza Adair | Dee Williams | Matt Williams


Apr 13, 2016


177 Images • 21:10 Min Video

Hot girl next door suffers rough sex from stap-on Dominatrix and hung Master, brutal deep throating

We welcome Endza Adair back to the Sexually Broken stage, and we introduce Darling, with her 9 inch strap-on of doom, huge 34 DDD breasts and amazing phat ass to the family of Sexually Broken tops.

We have Endza bound in rope with hands tied to thighs, simple but inescapable. On her Knees, in front of the bodacious Darling and her massive strap-on, Endza is a helpless suck slave. Darling punishes her sexy play toy's throat with an extreme face fucking, controlling her air intake. Endza only gets oxygen when Darling wants her to. Soon The Williams brings his talent and cock to the battle and the helpless Endza has a real BDSM couple sexually Dominating her.

Back and forth Endza is manhandled and bitchhandled, used for pleasure, helpless to the couple before her. Endza is fucked, throated and abused as the Williamses fuck their cute girl next door to several brutal and earth shaking orgasms. In the end Endza is left, dripping from every hole, dazed, confused and happy. Another amazing day at Sexually Broken, the Orginal Bondage and Rough Sex Website.